Vertical and Horizontal Bore Honing Production Machines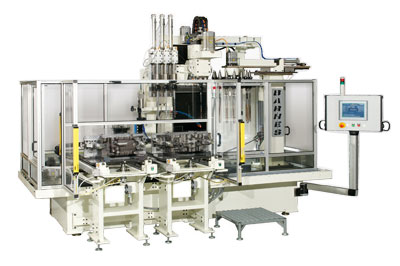 Barnes Bore Honing and Finishing Systems was founded in 1907 as Barnes Drill Co. during which time they began to manufacture the first all-geared drilling machines. Since then, Barnes Bore Honing and Finishing Systems has been considered a world leader in developing innovative new technology and processes to help manufacturers improve product performance, quality and cost. The earliest Barnes honing machines were the first-ever to make honing a practical and efficient means of finishing automotive cylinder bores in a production environment. As production requirements increased, so too did Barnes' ability to meet the need for greater speed, accuracy and efficiency. 

Barnes is considered as a world leader in developing innovative honing and bore finishing technology and processes. As honing and bore finishing requirements evolved, Barnes introduced a multitude of new products and innovations including multiple spindle machines, automatic part load/unload and transfer, automatic tool changing devices, in process part gauging, servomotor controlled honing stone expansion systems and single pass bore finishing.This long history of innovation has culminated in a new generation of machines, tools, fixtures and abrasives that deliver improvements in honing and bore finishing accuracy, surface finish, productivity and efficiency that were unimaginable just a decade ago.
The Honing Process
The honing process provides the final sizing and creates the desired finish pattern on the interior of tubing or cylinder bores. Finishing is accomplished by expanding abrasive stones of suitable grit and grade against the work surface. The stones are rotated and reciprocated in the part with hone abrasive under controlled pressure. Combining rotation and reciprocation produces a cross-hatch pattern in the surface of the part being honed.
Stroke Honing Machine
Barnes Stroke Honing Machines & Finishing Systems offers a complete line of products for all honing requirements. We can offer fully integrated systems and honing machines for high volume production applications and equipment for low volume job shop applications. Barnes Stroke Honing Machine & Finishing Systems also offers rebuild and upgrade services for existing honing machines.  We provide our customers with fully engineered complete custom solutions and offer a full line of accessories and consumables in addition to comprehensive training and repair services. 
Our extensive line of Stroke honing machines have the ability to hone machine bores with diameters ranging from 0.25 – 30 inches and bore lengths up to 75 feet. We offer systems for both medium to large-scale serial production as well as small batch production; these systems can be made to be  manually operated or fully automated. With innovation and customer service  as our main objectives, Barnes Stroke Honing Machines & Finishing Systems is continuously researching and developing new technology and machinery. By consistently staying on top of the latest developments on the market, we ensure that our customers are provided with the most state-of-the-art production and control. 
What is Stroke Honing?
The rough honing part of the process removes the bulk of the material remaining after boring and proVides the final sizing for the bore in a "peak honed" bore or leaves a minimal amount of stock in a two step process. Rough honing creates the desired finish pattern on the cylinder walls in a "peak honed" process or provides the valleys for a "plateau" honed bore. By combining rotation and reciprocation at precise rates, honing produces a specific cross-hatch pattern in the surface of the part being honed. Two step honing can further refine the "peak honed" surface to clean up tom and folded metal produced by rough honing or can produce a"plateau" on the surface to help meet emissions requirements.
The bore walls can be finished by expanding abrasive brushes or abrasive stones against the work surface. The brushes or stones are rotated and reciprocated in the part, with the finishers expanded under a lower controlled pressure.
Single Pass Honing Machine
The Barnes Bore Finishing Systems single pass machine line is suitable for a variety of single pass honing applications.  The flexible machine design can be configured with a single spindle for lower volume production requirements for the smallest of machine shops.  It can also be arranged with multiple spindles to satisfy high volume production requirements for the most demanding of companies.  
What is Single Pass Honing?
Single pass honing is done with a diamond abrasive, boring bar type honing tool. This type of honing tool produces a straight, round, and un-tapered bore in one pass of the tool through the part. Single pass honing is ideally suited for honing engine crank and cam bores. Since size is achieved in one pass, there is no crosshatch pattern in the finished part. The adjustable single pass tool expands the hone stones with a cone similar to standard tooling. However, the stones are not expanded and retracted as with conventional honing. The stones are only expanded to achieve size. The other difference is the hone tool is longer than standard tooling and the super abrasive coat the length of the tool. The single pass hone is tapered for about seven inches and has a final size section of 2.5 inches. See the photograph on the next page. The single pass tool has no in-process hone expansion, the machine must be stopped to adjust the tool.